Written by Keith Burbank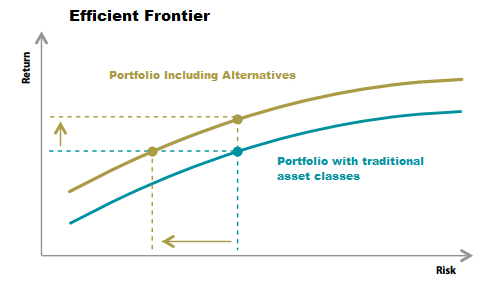 Alternative investments are typically anything other than the traditional asset classes of stocks, bonds and cash. The term is rather broad and can include precious metals, art, coins and stamps as well as commodities, private equity, venture capital and hedge funds. Investments in real estate and forestry are also often termed alternative although there is a long history of using such real assets to enhance and preserve wealth. Alternatives have unique characteristics and distinct benefits which they can bring to a portfolio. The investment returns of alternatives show low correlation to the traditional asset classes of stocks and bonds. Therefore, adding alternative investments to a portfolio may reduce volatility without sacrificing return.
The graph to the right illustrates a sample efficient frontier, representing all portfolios with the lowest risk (as measured by volatility) for a given level of return, or conversely all portfolios with the highest return for a given level of risk. The inclusion of alternative investments can move the efficient frontier up and to the left, so for a given level of return, risk is lower, or for a given level of risk, return is higher.
This content does not constitute a recommendation that any particular investment, security, portfolio of securities, transaction or investment strategy is suitable for any specific person. To the extent any of the content discussed may be deemed to be investment advice, such information is impersonal and not tailored to the investment needs of any specific person. This content is for informational purposes only and is not a substitute for personalized advice.  Effort has been made to ensure the material presented is accurate, however no guarantee can be made as to its accuracy.  This material is not meant to be an exhaustive and all-inclusive explanation of the circumstances discussed.